Convenient Saturday and evening hours.
Accepting all major insurance plans. *Husky accepted for patients under 21 and adults.
In-house discount plan to make dentistry affordable to those without insurance.
Environmentally friendly office and Green Dentistry practices.
Convenient payment plans.

Latest technology including digital x-rays and intraoral cameras.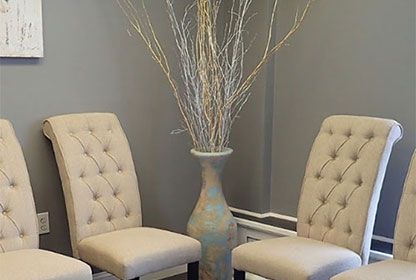 Monroe Connecticut Dentist
Welcome to Monroe Family Dentistry!
We provide comprehensive adult and children's dentistry to the people of Monroe, Trumbull, Derby, Shelton, and surrounding areas in Connecticut. We have a minimalist approach to dentistry – we believe that the most conservative route to a healthy, beautiful smile is the best dental care. We provide high quality care at an affordable price, regardless of whether or not you have dental insurance. We invite you to look around our website to learn more about how we can help you and your family achieve your goals for your dental health. Whether you want a check-up and cleaning, relief from a toothache, straighter and whiter teeth, or a second opinion, we can take care of you. Call (203) 445-8365 to make an appointment.
Excellent find! Apparently, the practice was recently purchased and renovated, and all of my experience has been with the new office. The front waiting area and patient exam rooms are clean, light, airy, and tastefully decorated. The front staff are polite and efficient. Scheduling availability and location are convenient. Most importantly, the dentist, Dr. Yaseen is fantastic! She is equal parts professional and friendly. She addressed all of my questions, and we worked together to come up with the best care plan for my family's needs. So glad that I found this dental clinic!
If you are looking for a dentist, Dr. Yaseen is great! I went in for some work, she spent time explaining to me what she was doing. She made sure I was satisfied with how everything was going. Dr. Yaseen also took the time to answer any questions I had. She really cares to make it a good experience for you. The front staff is super friendly and professional. The office is clean and modern, it's very welcoming. 5 star rating. I would definitely recommend this dental office!
I used to be a patient of Dr. Siddiqui, who I really liked, so I was a bit apprehensive when he retired. Fortunately, Dr. Yaseen came on board and relieved any worries I had right away. She was friendly, attentive, and listened to some questions I had about treatment recommendations. Everything seemed really neat and clean and the staff was professional. The check in and check out process was more streamlined than before. There's been quite a bit of remodeling in the office so it feels more modern and more welcoming than before which is a nice feeling when you have to go to the dentist.