Replace Missing Teeth in Our Monroe, CT Dental Office
Implants are the ideal way to replace missing teeth. The main part is a titanium "root" that is placed in the gums. A connecting piece attaches to the root and also to a crown, which is what fills in the missing space just like a natural tooth.
Special Offer on Implants
For a limited time, we are offering a $500 discount on a complete implant (the implant body, connector, and crown) to our website visitors, bringing the cost for replacing a tooth to $3,500. Simply Schedule a Consultation and mention the offer on the form.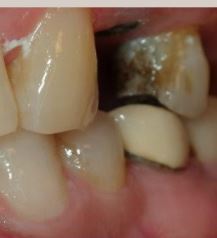 Benefits of Dental Implants
Advantages of implants over bridges:
Do not have to work on the adjacent teeth. The implant fits entirely in the empty space caused by the missing tooth, and does not need to be anchored on other teeth
Easier to clean. You can floss normally around an implant, unlike a bridge which needs a special flosser.
The implant stands on its own. By contrast, with a bridge, all the teeth involved in the bridge are tied together. This means that in the future any issue with a tooth that is part of the bridge will likely require working on the whole bridge.